2020 Harley-Davidson Touring Street Glide in Olathe, KS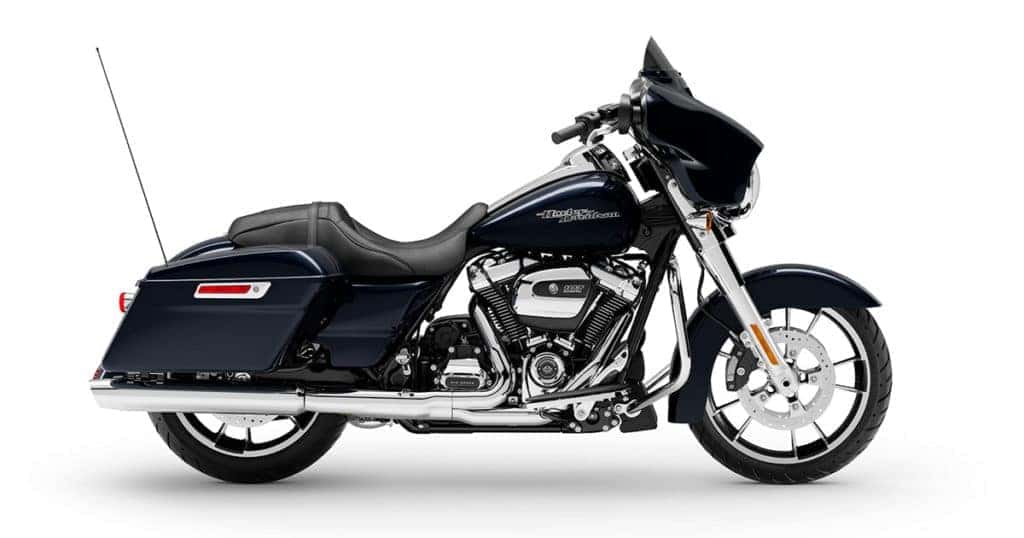 Harley-Davidson motorcycles are world-famous for their toughness and style. The 2020 Harley-Davidson Touring Street Glide is no exception. With lots of paint options, driver tech, and a powerful Milwaukee-Eight 107 engine, you can't go wrong with a Street Glide. Read on to learn more about the 2020 Harley-Davidson Street Guide.
Paint Options
Harley-Davidson offers a myriad of paint colors for the 2020 Touring Street Glide. For those that prefer darker colors, there are several options. Vivid black is a deep, shiny black. If you prefer a deep blue, midnight blue is a good choice. For something more muted, go with black denim (a matte black) or barracuda silver (a matte silver). For a motorcycle that stands out on the street, Harley-Davidson offers two bright colors. Stiletto red (a deep cherry red) or Tahitian teal (a deep ocean blue-green) will get you noticed.
Styling (Features)
The 2020 Touring Street Glide is equipped with Enforcer II cast-aluminum wheels, chrome mufflers, front fork, and engine. A batwing fairing in the front provides smoother airflow around the bike for less head buffeting from the wind. Dual saddlebags provide 2.3 cubic feet of storage capacity. Large gauges give you instant access to your odometer reading, trip distance, distance to empty, and other important indicators. A security system is standard on all 2020 Street Glides.
The Boom! Box 4.3 radio is standard on all 2020 Harley-Davidson Street Glides. The radio features an easy-to-read 4.3-inch full-color screen. The radio is easily operated using soft key buttons on the sides of the screen. Button spacing is wide enough to accommodate gloved hands.
Bluetooth connectivity is standard on the 2020 Street Glide. After connecting your smartphone via Bluetooth, you can control your music playlist and receive/respond to text messages using voice commands. If you often ride with passengers, the Street Glide's voice-activated intercom will come in handy. The intercom system allows riders and passengers to communicate using their headsets without the need for any buttons.
Harley-Davidson offers a huge variety of options to make your Street Glide truly unique to you. With everything from performance packages to custom trim, there are endless ways to make your Street Glide suit your life and personality perfectly.
Engine (Power)
A powerful Milwaukee-Eight 107 engine is standard on all 2020 Touring Street Glides. The engine puts out 111 pound-feet of pavement-eating torque. Harley-Davidson has engineered the Milwaukee-Eight 107 with state-of-the-art cooling tech designed to keep the rider comfortable by reducing radiant heat. Reflex Linked Brembo anti-lock brakes are standard on all Street Glides. The Street Glide's high-performance front and rear suspension feature easy-to-adjust rear shocks. By a simple hand turn, you can adjust the rear shocks to maximize rider comfort no matter what terrain you will be covering.
Harley-Davidson's Reflex Defensive Rider Systems (RDRS) are optional on the Street Glide. The RDRS is a tech package that controls the chassis, brakes, and powertrain to give riders maximum control in all weather and road conditions.