National Sunglasses Day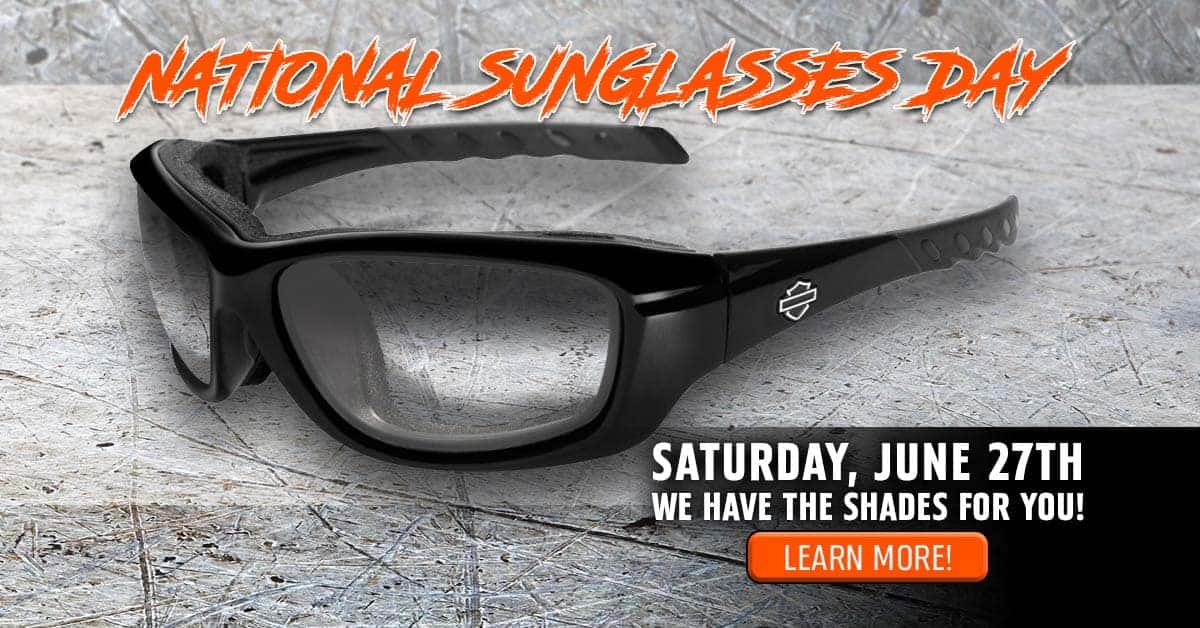 National Sunglasses Day is Saturday, June 27th 2020 and we have the shades for you!
Sunglasses not only look cool, they protect your eyes while riding!
Who makes Harley eyewear?
Harley-Davidson has collaborated with Wiley X to bring you state of the art riding eyewear. This collection offers the best in style, protection, climate control, and optical clarity.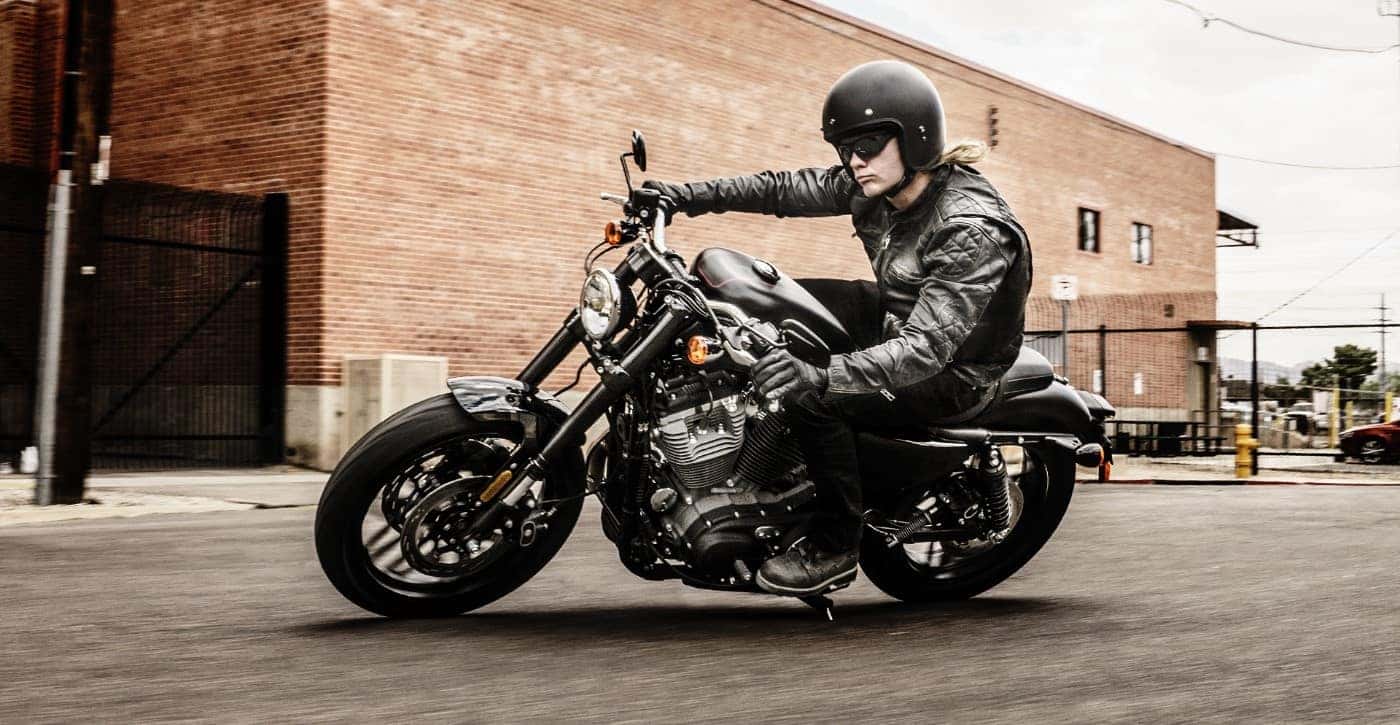 Why Wiley X?
Wiley X has over 25 years of experience in producing protective eyewear and is considered a world leader in the research and development of protective eyewear.
Wiley X has produced eyewear which has become standard issue for such groups as the FBI, DEA, Army Rangers, Navy SEALs and other elite Special Forces units around the globe.
This leadership position in the field of protective eyewear is largely in part due to the insistence that all of their eyewear meets the ANSI Z87.1-2003 safety standard for High Velocity/ High Mass Impact Standards and/or the Military VO Ballistic Impact Specs.
Why choose Harley-Davidson eyewear?
All of our new eyewear collection must pass either an ANSI (American National Standards Institute) High Mass Impact Test, or an ANSI High Velocity Impact Test which allows all of these riding glasses to carry the ANSI Z87.1 certification on both the frames and the lenses.
The ANSI High Mass Impact Test requires that the glasses withstand the weight of a 1.1 lb. pointed projectile dropped from a height of 50". Are you willing to try that with your glasses?
The ANSI High Velocity Impact Test requires the frames and lenses to withstand the impact of a .25 inch diameter steel ball fired at a speed of 150 ft./sec. This test must be repeated 20 times from different angles in order to pass. This ensures that these glasses are practically indestructible.
This ANSI certification is clearly marked on the frame where you will find WX Z87 on the temple arm. The lens will carry a fine etched WX + which ensures that the lens has passed the ANSI certification.
This attention to detail means that your getting the best protection money can buy when purchasing H-D riding eyewear
Climate Control
There is nothing worse than turning your head while riding and having the wind snatch your glasses off your head. That is why we have a Climate Control group of glasses.
These glasses use a patented Facial Cavity Seal to control wind, dust and pollen from irritating your eyes. This provides your eyes with a perfect environment to better see the road and provides additional protection from peripheral light which can have long term effect on your vision.
The Facial Cavity Seal is removable and is made from air permeable foam which blocks out even the finest irritants.
The latest version of our Facial Cavity Seal is also low profile which keeps the glasses looking stylish and not like a goggle.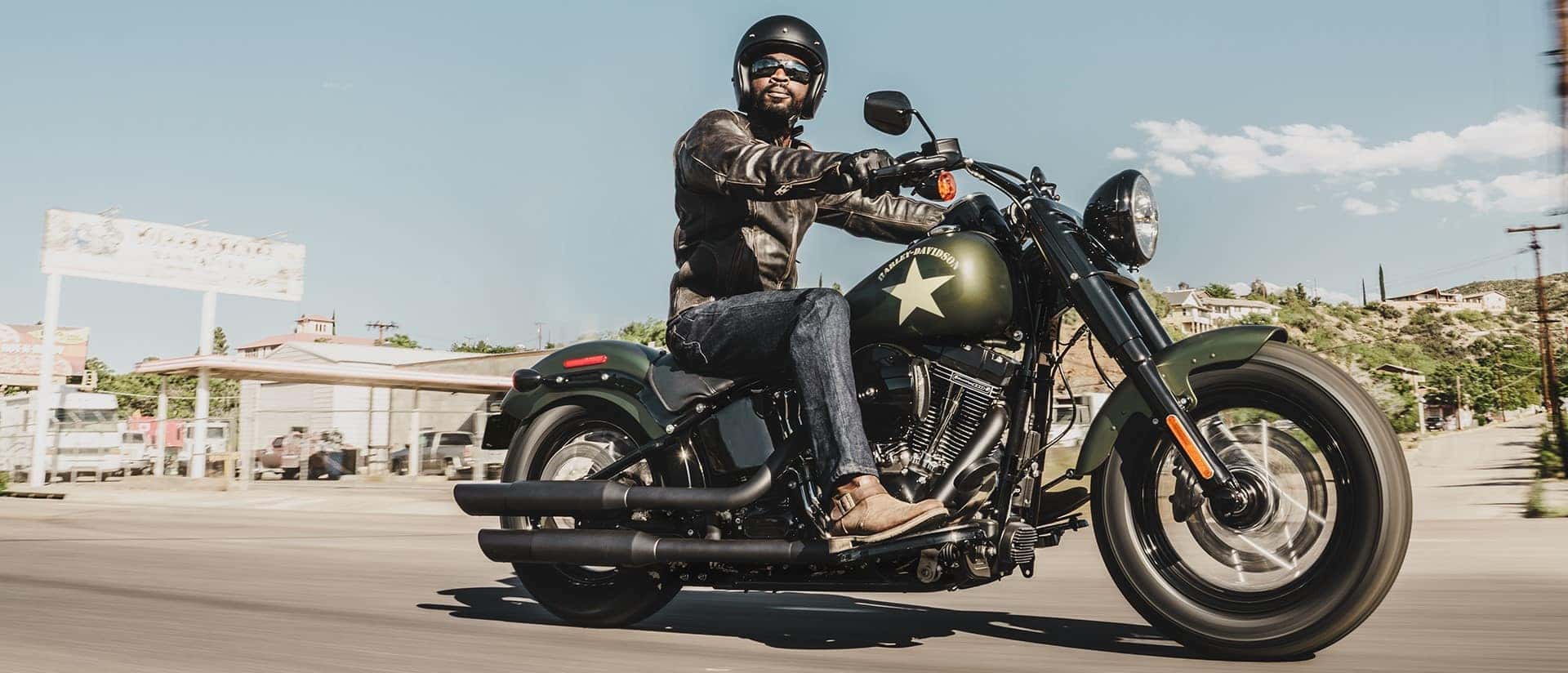 Optical Clarity
The true value of quality eyewear is in the lens. The collection uses lenses made of Wiley X's shatterproof Selenite polycarbonate lenses coated with a scratch resistant T-Shell Hardcoat. These lenses not only protect your eyes from 100% of the sun's harmful UVA and UVB ultraviolet light, but they pass the ANSI standards for optical clarity.
Because of the importance of depth perception while riding, the new H-D lenses are tested to make sure that objects are viewed in their true relative size and position. These characteristics are called refractive power and prismatic power. Both of these are minimized giving you a true view of the road ahead.
Our lenses are placed into frames that are made of high quality Triloid nylon. These frames resist high temperature degradation, and provide comfort and consistent fit. Because of the quality of the frame, an optical professional can fine tune the fit if necessary
Lens Types
LA- Light Adjusting Lenses One pair for all occasions.
These are our most popular lenses for riding because it offers you a "one lens solution" for your riding needs. This lens automatically darkens and lightens according to the amount of UV light present. The new H-D LA lens is the latest in "transition" lenses as it darkens down to 17% light transmission and lightens to 85%. This is the broadest range ever produced for riding glasses and will outperform any other "transition lens" on the market. It also has been formulated to change more rapidly due to the demands of motorcycle riding.
Filter 8 Polarized Lenses
This 8 layer lens sandwiches a Filter 8 polarized film layer between 2 Selenite layers, 2 T-Shell scratch resistant layers, and 2 Slick hydrophobic layers that shed water. Although many riders think that polarized lenses are not for riding, this new lens offers great protection from glare and for those that are very light sensitive, they are our darkest (10-12% light transmission) lenses.
Silver Flash (Smoke Grey) Lenses
This is the darkest lens H-D offers (polarized- 10%) while the non polarized version has a 12% light transmission. It consists of a multicoated Z-Oxide layer over a smoke lens. Great for daytime use.
Bronze Lenses
These lenses enhance contrast and depth perception and have light transmission values of 19% (Bronze Flash).
Anti-fog Coating
All of our lenses in our Climate Control models are coated with the most up to date anti fog coating available. This means that you can ride in all temperatures without worrying about your glasses fogging.
Fit
It is important that the glasses fit your face with virtually no gaps between the facial Cavity Seal and your face. Our riding gear experts are trained to find you glasses with the best fit possible!
Prescription
You can get your prescription right into the Climate Control glasses. All we need is a prescription from within the past year to send to Wiley X. Their optical department can do the entire process for you and ship the glasses directly to you.
Warranty
Wiley X stands behind their product.
All Harley-Davidson by Wiley X, eyewear is warranted to the original purchaser for life against manufacturing defect in materials and workmanship (except Light Adjusting (L.A.) lenses which have a tint adjustment life of 18 months. Proof of Purchase for L.A. lens products required).
Harley-Davidson by Wiley X prescription frames are warranted for 1-year as long as a Wiley X "authorized" lab dispensed the original prescription.
---
---